Fresh Fruits & Vegetables Program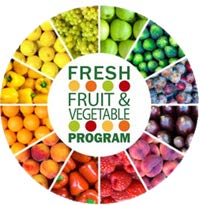 Ellendale Public School has been awarded a grant for the 2021-2022 school year from the "Fresh Fruit & Vegetable Program," through the ND, Child Nutrition & Food Distribution Programs. This program provides a mid-day snack for all elementary students. The goal of the FFVP is to create a healthier school environment, expand and increase the variety and consumption of fruits and vegetables; and make a difference in the children's diets to impact their present and future health. 
This program is administered through the US Dept. of Agriculture's Food and Nutrition Service on the federal level, and at the state level, through the National School Lunch Program. The fruits and vegetables will be served each week on Mondays, Wednesdays, and Fridays.