Have you seen the new Career Pathways booklet? Use this guide to help determine not only the learning path you choose but how it can lead you to your desired career.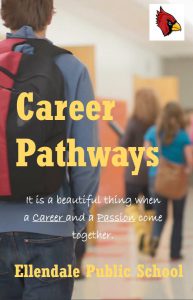 School to Work Connections
Ensuring students see the connections between their high school educaiton to their post- secondary educaiton, and from that to their future career is vital. By seeing a clear path, it is our view, that students will be fully engaged and active participants in process of education.
At Ellendale School we have created this guide as a tool for parents and students to help them plan for high school and post secondary coursework. Inside you will find information on career opportunities that can be found in our community and around the state. For each career course, options are provided to help guide you on the path to your future. Use this guide as a tool to help in the development of your plan.
You can view the booklet here, or click on the link on our Students page: