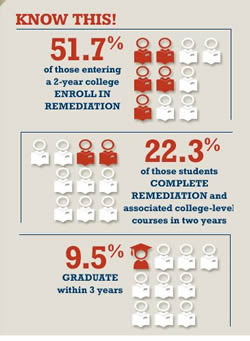 QUICK LINKS
Parenting Resources
CREAM Program:
Ensuring our kids are ready for college helps ensure their future success
What is CREAM
The NDDPI has partnered with the Dakota College at Bottineau (DCB) to offer College Ready English and Math (CREAM). The purpose of the College Ready English and Math (CREAM) program is to identify high school students who are in need of English and/or math remediation based on their ACT/SAT scores and to provide those students with the knowledge and skills to make them college ready.
What does it cost a student having to take remediation class in college?
Each year thousands of students depart to a four-year college or university only to be told, they are not ready. This determination is often made solely on what that child scored on their ACT or SAT alone.
English – Minimum ACT = 18 (English sub test)
Math – Minimum ACT = 21 (Math sub test)
The North Dakota University System (NDUS) spells this harsh reality out in its own policies and procedures. It can be found within NDUS Policy 402.1.2. Here is a link to the procedures used to enroll a new student entry level math or English. If your child cannot make these entrance requirements they are required then to take a remedial course. A course that your child will pay for, yet earn zero credit.
Here is a graphic showing the financial costs for students taking remedial course across the country. It is staggering!
In addition to the financial costs students having to enroll in remedial courses are also increasing their odds of not completing their college degree at all.
How can my child enroll?
If you have determined that your child does not meet the entrance requirements speak to the counselor or principal before they enroll for courses for their senior year. They can assist them in enrolling in the course and directing them to our MyFoundationsLab proctor.
How long is the course?
MyFoundations Math – 1 semester
MyFoundations English/Writing – 1 semester
*If your child would need to complete both this would be scheduled one per semester to span the entire school year.
How do they start?
Once they are enrolled a pre-course meeting will be held with the instructor and the student will select a time period (similar to a classroom course) where they will report in each week to monitor progress and receive support if needed. The student will be provided access to a computer during school time to complete the course. However, if they would have a computer at home they could also complete this course there.
What if they need more help?
If you child would need academic support teachers in both the math and english departments are prepared to provide assistance as needed.
What will my student need?
First and foremost a willingness to address these issues. These are online courses that will require personal discipline to complete successfully.
A computer to complete the course will be made available during the school day. However a home computer or laptop could also be used.
ELLENDALE PUBLIC SCHOOL
Phone: 701-349-3232
Address: 321 N 1st St, Ellendale, ND 58436
Mailing: PO Box 400, Ellendale, ND 58436