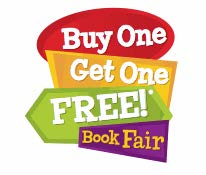 Ellendale Public School will host a Buy One Get One Free Scholastic Book Fair during the week of February 26 – March 1. Hours will be 8 am – 4 pm on Monday and Thursday and 8 am to 6 pm on Tuesday and Wednesday (to coincide with Parent-Teacher Conferences). Families, faculty, and the community are invited to attend this fun reading event that helps inspire children to become lifelong readers. We can't wait to see you at 2018 BOGO Book Fair!
Students are also gearing up for Reading Month, which will take place during the month of February. There will be lots of fun events and competitions throughout the month for
your students to participate in. A calendar will be sent home, which tells about the dress up days and other activities that have been planned.
It's sure to be a fun adventure, as everyone picks up a good book to read!